Hello Everyone-
Lots happening: As of this week over 200 Washington County residents have signed the petition demanding that the County update the law for gas station sites. Also, the Beaverton Valley Times covered the Chevron near Bethany Lake story again online and in print.
Can I still make a comment on the Chevron near Bethany Lake?
Yes you can still comment! With the Hearing moved from Oct. 20th to Nov. 17th you can still make comments. If you haven't done it please do. Your comments on the old applications from last year DO NOT get considered on this new application.
Gas station petition over 200!
Over the last year we have been working hard to show the County there is interest in updating our laws to ensure a gas like the one proposed adjacent to Bethany Lake is never considered again. At a high level we want Washington County to require a significant 1,500ft setback from sensitive areas like wetlands, schools, etc. Cities and counties across the country, big and small, have implemented similar laws (and sometimes outright bans on gas station construction) so this proposal is designed to be politically tenable.
And this week we reached well over 200 Washington County residents signing onto this proposal alongside groups like Tualatin Riverkeepers, Treekeepers of Washington County, and 350 Washington County.
This proposal is now on the County "Long Term Planning" backlog (read the full document) which will be considered and prioritized early 2023 according to the Staff report. Currently, updating the law through this process is still a long shot so the more support we can show to Commissioners the better. Sign the petition!

Coverage by Beaverton Valley Times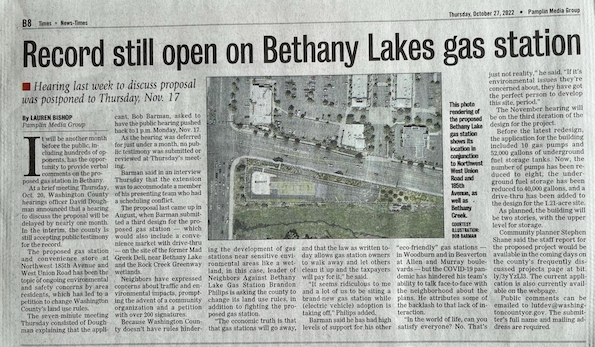 The Beaverton Valley Times covered the story of the Bethany Lake gas station this week online (read it here) and in paper. Besides an overview of the current state of the application the applicant Robert Bob Barman is quoted. And he makes some… bold and misleading claims. So, let me break it down:
Bob Barman claims some of the backlash to his application is because he and his team haven't been able to meet our community face to face due to COVID. Yes, due to COVID there have been no face to face community meetings. But, there have been multiple virtual community meetings. And the most recent March 2022 meeting showed universal community opposition amongst the roughly 16 people in attendance. In particular at the meeting the developer team, including Bob, was unable to address specific questions about tank and dispenser resistance to failure, refused to listen to community statements, and would not commit to providing a financial guarantee for eventual cleanups. The community resistance to this development isn't from a lack of meetings; the resistance is from putting 40,000 gallons of gasoline 80ft from our public parks in a regulatory regime that puts cleanup burdens on the public. Read their community meeting notes included in their application documents
Q - You mentioned an automatic shutoff system. Can you provide some details on that system and how it links to the dispensers? For example, in October of 2021 1,300 gallons leaked from a dispenser in Pasadena, CA when the automatic shutoff valve was fouled from a car crashing into it.

A – We do not have the designer of the tanks with us tonight. The system will be detailed in the permitting process. We are not familiar with the case in California that you mentioned. All fuel tanks are double walled and double lined. We have monitoring shut off valves that shuts down the system. We do daily, monthly, and annual testing which is submitted to DEQ.

Q - Has the developer prepared a funding model for decommissioning the gas station? How will that be covered if the company goes insolvent or bankrupt?

A – This is not related to land use, and not typically done as part of a development. We understand why you are asking this question. The developer has not prepared a funding model for decommissioning the gas station. The development has been designed to be long lasting with future use.

Q – Hudson Hood here, 8 years old from Bethany. I would like to make a statement Q - I'd like to make a statement.

A – We see a couple of people would like to make statements. This is not a public hearing. The CPO does make a statement as part of the neighborhood meeting. We are going to get through the comments and questions posted. We'd encourage you to provide your statement here (in the Zoom meeting comments) and we will read it, or you can submit a statement to us via email or directly to the County.

(Brandon's note: Any statements pasted into the Zoom were not reproduced in the applicants report and it is unclear if they were read.)
Bob Barman, in his quote, implies our campaigns primary concern is environmental. As a group, our community has voiced legitimate concerns from the economic cost of cleanup, the environmental impact of leaks, the traffic increases, the pedestrian conflicts due to a drive through, and the community purpose served by this development in a region with rapid EV adoption. On top of that, our campaign, via our land use lawyer, has been holding Bob Barman to account to follow every requirement of Washington County law regarding setbacks, half street improvements, and other requirements. And we know Bob knows the opposition is multi-faceted: because he was in attendance at the community meetings! Read their community meeting notes included in their application documents
Bob Barman claims that this will be an eco-friendly gas station. The claim that it is possible to make a gas station environmentally friendly is simply shenanigans. DEQ data (see data) shows an annual 3% annual leak rate from dispenser issues, storage leaks, and delivery mistakes: leaks at gas stations are a question of when not if. Secondly, in the community meeting the applicant claimed a heat pump and solar panels made his building near net-zero. This near net-zero claim is ridiculous: with the proposed size of the panels and the estimated fuel sales from the applicants documents we estimate their solar system will offset 0.01% of the carbon emissions from the fuel they intend to sell.
At the end of the day the County laws currently gives any land owner the right to build a gas station next to a wetland within neighborhood commercial zoning. IF the land owner follows all applicable land use laws. We will continue to ensure this development follows the exact letter of the law using every tool available and ensure the public gets a fair shake.
But, it is insulting to have Bob Barman claim we are misunderstanding his intentions or that he is doing our community a favor as a self styled eco-friendly gas station saint. The oil industry has a long history of using misdirection in the media to distract from the legitimate concerns of the communities that their profits are extracted from and their externalities are dumped into.
(If you don't feel like writing a Letter to the Editor maybe watch a funny video breaking down how Oil companies use media.)
Tell your neighbors!
We have even more time to organize. Please share nabgas.com with neighbors and ask them to subscribe to these emails with the link below.
Thank you,
Brandon
P.S. Now that fall is here there is less wildlife along the Rock Creek Trail but the recent sunsets have been beautiful.